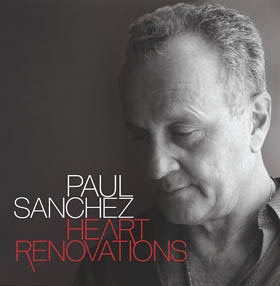 Award-Winning New Orleans Musician Paul Sanchez Releases 14th Album, Heart Renovations
Jul 31, 2016
Lauren Itzkowitz
paulsanchezpr at gmail.com
New Orleans, La. (July 31, 2016) -- Native New Orleanian Paul Sanchez, a noted musician, songwriter,
singer, producer, writer, and actor announces the release of his 14th album, Heart Renovations, a sequel to
Sanchez's critically acclaimed first solo album, Jet Black and Jealous, which was released in 1992.
Recorded in New Orleans, Heart Renovations, features 20 new original songs and is available at Louisiana Music Factory, CD Baby, iTunes and Amazon.
Paul Sanchez's award-winning music transforms audiences with his unique blend of music and storytelling – at once powerful, sad, humorous, entertaining, and hopeful. Heart Renovations features the solo acoustic music and soul-searching, poetic lyrics for which Sanchez is best known.
The cover art for both albums was designed by Eric William Gernhauser, a graphic designer who worked for New Orleans Magazine for 20 years. Gernhauser returned to CD design for Heart Renovations to recapture the feeling of his original art for Jet Black and Jealous.
The art tells its own story – the first, a young musician looking inward, discovering himself as a person and a solo artist. The latter, a man who has lived through more personal and professional setbacks than any one person should have to endure. Sanchez understands and beautifully expresses in both albums that for him the path to growing and healing is musical storytelling.
Sanchez notes, "Jet Black and Jealous was a man in his twenties banging on his guitar and singing about finding and losing love. Heart Renovations is a man in his fifties, pausing to reflect on all of the same questions."
Currently on tour, audiences can expect to hear a mix of Sanchez's familiar tunes as well as selections from Heart Renovations. For tour schedule, visit www.paulsanchez.com.
###